Blue Tiger "Art of Giving Campaign"
Original painting on Sale until April 30 2020
Now is the time of courage, the time of cooperation and the time of solidarity. 
Your support will bring art to New Orleans children and healing in the community that is in crisis from the Covid-19 outbreak.
I've used my art to do what I can for my beloved New Orleans since arriving shortly after Katrina and am now happy to give a portion of our online purchases to benefit the work of the Moschukma.org art healing program of New Orleans. 
Mucho Amour, Nico Busciglio
Original Painting: 
Created on Archival stretched bars and linen canvas, this powerful 6x6 feet painting is a signature Busciglio Master piece, with all the beauty of this powerful animal this painting opens a new series of work by Busciglio called "Al Natural" expressing the divine connection of Nature and Humanity.
"The Blue Tiger"  was created on 3" linen canvas, Archival bars, with the painting continued around the edges of the canvas.
2020
ACRYLIC ON CANVAS by Busciglio
54 x 64 Inches
Delivery of Your Painting: 
• Accompanying Certificate of Authenticity hand-signed by the artist will be send with the painting.
• free shipping for paintings shipped within the United States.  Please contact us for a quote for international shipping.
• Shortly after you have completed checking out on the website we will provide you with a shipping date and tracking number.

• We use UPS as our shipping carrier.  We have ten years of experience shipping hundreds of Busciglio's paintings across the globe, and we have not damaged a single painting in shipping.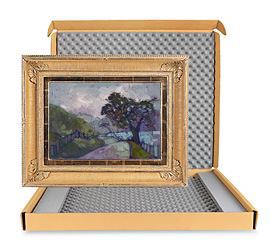 • Your painting will be safely shipped with full insurance. Larger paintings will be carefully shipped in a wooden crate.

• Your painting is 100% guaranteed with a 7-day, no questions asked exchange policy.