The Cathedral
In this painting, Busciglio elegantly depicts Jackson Square in the French Quarter. His distinct impressionistic style and bold colors are illuminated with  a spiraling golden sky expressing the beauty and history of New Orleans. St. Louis Cathedral sitting at the center of the composition is the oldest Catholic church in America,  and the building on its left, the Presbytere, is where Napoleon sold the Louisiana purchase to the United States.  A sculpture of Andrew Jackson sits at the center in honor of his heroic efforts during the battle of New Orleans. History aside this famous landmark, Jackson Square, which faces the Mississippi, is a romantic and enchanting place to spend time today. Here you can hear brass bands play, shop for local art, eat renowned cuisine and feel the mysterious beauty of New Orleans the land of dreams.
2017
ACRYLIC ON CANVAS by Busciglio
40"x30" Original SOLD - $5900
"The Cathedral" was created on 2" canvas, with the painting continued around the edges of the canvas.
Gold Edition Artist Proofs are manufactured using professional-grade archival inks and printed on fine art acid-free canvases. The surface of each print is individually reworked by Busciglio in his studio and finished with a signed  handprint on the back to create an Embellished Artist's Proof. The artist effectively creates an alternate version of his artwork image of each new Gold Edition Artist's Proof. Every rare reproduction features its own unique set of details, and there are no two in existence that are identical.
These paintings

 

are limited to an edition of

 

13. 
Busciglio personally hand embellishes every canvas to give it a one of kind original feeling to the painting.
The bottom edge of each print is hand-signed and numbered by Busciglio. He signs his limited edition prints using a small brush dipped in gold enamel paint. The accompanying Certificate of Authenticity is also hand-signed and numbered by the artist. 
To make these limited prints more special, Busciglio has decided to offer these prints only in the exact dimensions of the original painting. This means each brush stroke appears in the same size as the original painting. These prints are truly one-of-a-kind.
Delivery of Your Painting: 
• Accompanying Certificate of Authenticity hand-signed by the artist will be send with the painting.
• free shipping for paintings shipped within the United States.  Please contact us for a quote for international shipping.
• Shortly after you have completed checking out on the website we will provide you with a shipping date and tracking number.

• We use UPS as our shipping carrier.  We have ten years of experience shipping hundreds of Busciglio's paintings across the globe, and we have not damaged a single painting in shipping.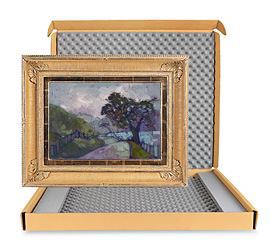 • Your painting will be safely shipped with full insurance. Larger paintings will be carefully shipped in a wooden crate.

contact us if you have any question, info@busciglioart.com