When you are Smiling
This painting is a celebration of Louis Armstrong. Louis's spirit sings through the canvas with his infectious smile while the blues and silvers are a call to the freedom and healing of the soul that is so often comes through the music. 
2016
ACRYLIC ON CANVAS by Busciglio
24"x39" 
Gold Edition Artist Proofs are manufactured using professional-grade archival inks and printed on fine art acid-free canvases. The surface of each print is individually reworked by Busciglio in his studio and finished with a signed  handprint on the back to create an Embellished Artist's Proof. The artist effectively creates an alternate version of his artwork image of each new Gold Edition Artist's Proof. Every rare reproduction features its own unique set of details, and there are no two in existence that are identical.
Busciglio personally hand embellishes every canvas to give it a one of kind original feeling to the painting.
The bottom edge of each print is hand-signed and numbered by Busciglio. He signs his limited edition prints using a small brush dipped in gold enamel paint. The accompanying Certificate of Authenticity is also hand-signed and numbered by the artist. These prints are limited to an edition of 13. 
To make these limited prints more special, Busciglio has decided to offer these prints only in the exact dimensions of the original painting. This means each brush stroke appears in the same size as the original painting. These prints are truly one-of-a-kind.
 j
Delivery of Your Painting: 
• Accompanying Certificate of Authenticity hand-signed by the artist will be send with the painting.
• free shipping for paintings shipped within the United States.  Please contact us for a quote for international shipping.
• Shortly after you have completed checking out on the website we will provide you with a shipping date and tracking number.

• We use UPS as our shipping carrier.  We have ten years of experience shipping hundreds of Busciglio's paintings across the globe, and we have not damaged a single painting in shipping.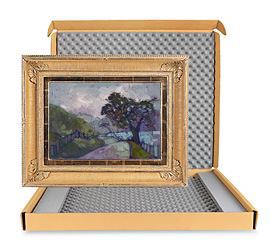 • Your painting will be safely shipped with full insurance. Larger paintings will be carefully shipped in a wooden crate.

contact us if you have any question, info@busciglioart.com or call 504-427-6253